There were a TON of GREAT lacrosse games this past weekend but one stood out above all the rest.  Tufts last second win over Bowdoin on their way to a second consecutive NESCAC crown was huge (video).  Colgate knocking off Maryland was crazy, even if it wasn't enough to get them dancing.  Delaware won the CAA.  UNC's game with ND was outstanding, especially at the end.  And in the MCLA, Chapman over ASU and Michigan beating Michigan State by 1 were both intense.  CSU's 9-8 win over Colorado was also very noteworthy.
But the game of the weekend was in the America East Finals, where Hartford beat Stony Brook by 1 to garner their first NCAA appearance ever, all during the course of their first winning season in… forever.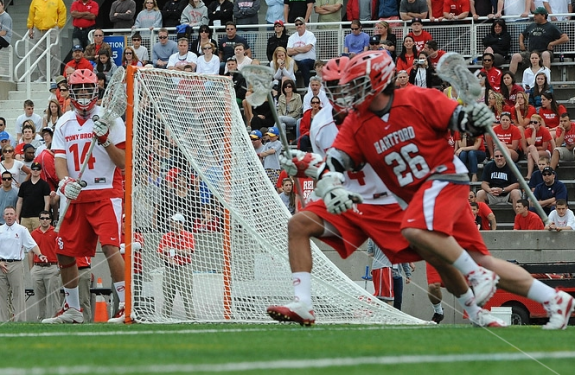 Photo courtesy HartfordHawks.com
This game really had it all.  Stony Brook was the giant, and everyone expected them to win.  Their star players, Kevin Crowley, Jordan McBride and Tom Compitello all showed up and played their games, and Hartford was up to the task.  The Hawks extended on D where they had to, crashed in where they could and while they gave up a couple of easier goals here and there, the pressure really paid off for them.  They confounded Stony Brook when the Sea Wolves were on offense and did a nice job of taking the air out of the ball when they were on O.
Hartford has a Compitello of their own, and Ryan had a huge game, going for 3 goals and 2 assists.  His lefty game winner from 4 yards out as he was getting absolutely laid out Superman style, was unreal and the adernaline he felt must have been the only thing that allowed him to pop right back up.  Carter Bender was Hartford's answer for Crowley as he put up 3 goals and drew a TON of attention from Stony Brook's D.  Both Bender and Crowley are big guys, who like to go with their strong hands, and aren't afraid to dodge or draw the double, and then beat it.
Hartford proved in this game, just as Stony Brook did last year in the NCAAs, that there are a couple of capable teams in the America East, and now Hartford has a big opportunity to play in the NCAAs.  They take on Cornell in the first round, in Ithaca, and a win here is a tall order, but within their reach.  They were able to contain McBride and Crowley, but Rob Pannell will provide a VERY different challenge to the Hartford D.
He doesn't like to slow it down like Crowley does, and he's more of a complete player than Jordan McBride or Tom Compitello.  In fact, Pannell brings aspects of all three Strony Brook players' games to his own.  This will be a unique match-up problem and defending from X will be different from the topside looks that SBU presented.  I don't LIKE Hartford to win this game, but at the same time, you can't put it past them.
At 11-6, Hartford has hung with everyone they've lost to.  If they can keep stepping up to a bigger stage, they can keep winning, but they simply can't have a letdown, especially not against Cornell.  The historic implications of their first AE title and NCAA bid can not be overlooked, but the simple fact is that this was just a great lacrosse game… the best I saw all weekend.