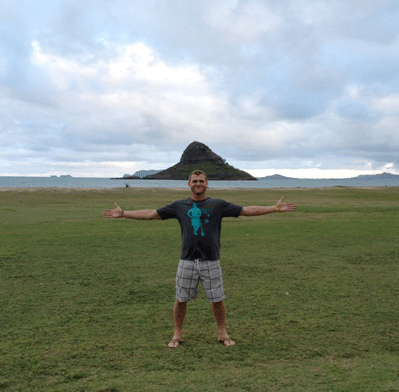 Editor's Note: Malcolm Chase is back on LAS with more from the 2012 Hawai'i Lacrosse Invitational. Malcolm is an LXM PRO, lacrosse rat, and a staple out in Hawai'i with Wimmer Solutions. Oh yeah, he's also a mean takeaway artist! Make sure to follow Malcolm on Twitter @longstickmid23.
_________________________________________________________________________
#WimmerIsland
#WimmerElite3peat
#BeautifulPeople
Hey All Stars – Comin' at you from 30,000 feet again. I'm feeling so many emotions right now, and am already missing my teammates, and Hawaiian friends, who all made my week on the island so special. So proud of our Wimmer teams once again capturing the Master's and Elite titles with come-from-behind victories. There is something magical about this tournament and no matter how many pictures are taken, or words written, I don't think you can truly appreciate it until you visit for yourself.
That being said, I am going to do my best in the next two entries to give you some fun photos and stories to help you understand the blissful state that I am floating around in back in seat 24A. I'll jump around a little bit, but that's a more accurate portrayal of how this experience goes. It's not uncommon to find yourself, 3 months after the tournament, and shoveling snow or driving to work, when out of nowhere, an image or memory of an amazing play, hilarious Eric Martin one-liner, or beautiful Hawaiian scenery will pop into your head. So sit back, relax, and feel free to roam about the Island with me.
My boy Rich Lee (above), former player for me at Roanoke, and current manager at LuLu's – the awesome home base for the Hawaii Lax Tourney and Halloween Party. Rich is still a very impressive athlete. We had been texting for weeks leading up to the tourney. Always good to see you my man!
Never get tired of viewing pics of Diamond Head. Here you see tournament organizers getting the fields ready. I remember looking up at the mountain just before our Master's final and getting goose bumps, triggering the necessary adrenaline to battle Tri-City, some tough SOBs from Canada, who gave us a serious battle.
Not a bad view from our team's suite at the Aston Waikiki Beach. We had some fun times here a couple of nights picking up our uniformss on Thursday, and at our Tsunami party which had us 26 floors safely above the minimum 3 floors for this particular warning. Fortunately, the 7.7 quake that led to the warning did not cause the wave or damage expected.
Little did we know that the real disaster would be where most of us would be returning this week with Hurricane Sandy.
Giant TiKi Man greeting us at the tournament party on Friday. Andrew Wasik and I claim 1st s on our arrival as we had been floating around at the beach watching the sun set, when we stumbled upon this scene in our board shorts on our way back to the room. Picture about 400 people behind that statue about an hour later.
Sunset at Waikiki Beach. Always chill.
EMart making friends. We had not played together since Bump n Grind tourney in 2003. I forgot how funny this dude is. He made a ton of contributions on and off the field. Great to have him back out on the field and injury free.
How many of us will see one of these in our lifetime? I was definitely scared but the island authorities did an excellent job at "vertical evacuation", getting us 3+ stories up. Although our team dinner was cut short, the firefighter who gave us the boot was kind enough to ask me if I wanted a To Go box. Just a small example of how kind people are here.
Sonny and Cher (Matt Sauri and his lovely lady) promoting good vibes as usual. Where's Waldo in this pic?? Also, check out Terry Kimener geeking out in his video game gear. I'm always so impressed at the creativity and randomness of costumes.
Of course the Guy Who Just Got Out Of The Shower needs a couple of loofas to stay clean throughout the evening. I had some big costume plans for this year that fell through so this one was an audible. Thankfully these two lovely young ladies were on hand to accessorize.
Very creative girls!
Adam Messick, Wimmer employee and my former teammate at Whittier! His Jorts (jean-shorts) have become a Hawaii Lax classic. Here he rocks the troll look like no other hangin' loose with our local photographer. Expect to see some amazing action shots over the next couple of weeks.
Wimmer Snorkel Team Josh Rachman, Terry Kimener, Paul Rabil, Anthony Kelly, Drew Snider and Steele Stanwick taking full advantage of extra days due to Hurricane Sandy flight cancellations.
I took a ride up to the North Shore and took in some beautiful scenery on the way…
"The Chinaman's Hat"  Peep the LAS shirt. Always reppin'!
One of my favorite shots with the sun just peering up over the mountains in the distance.
Sunset on The North Shore.
It was great to have another day to relax and recover from a tough weekend. My body really took a beating pulling double duty with both squads and maintaining a full social schedule at night. After taking a vicious Canadian chop by a woodie in one of the Master's games, the Pacific Ocean was great to just sit in and soak. Talk about a perfect remedy.
Stay tuned to LAS for Recap Part 2. I'll have some action shots, a few more cool scenes from around the island, as well as some very important information regarding the people and charities Wimmer supported this year. Right now, I'm gonna kick my seat back and hopefully not wake up until I'm back in Beantown.
MAHALO!
To see how Malcolm prepped for Hawai'i 2012, check out Chasing Hercules: Hawaii 2012 – 8 Days Out, Chasing Hercules: Hawai'i 2012 – The Journey Begins, and Chasing Hercules: Malcolm Chase's Lacrosse Training Circuit!
For Malcolm's first day in Hawai'i, check out Chasing Hercules: Hawai'i 2012 – Day 1. For Malcolm's mini-update, Wimmer is Rolling, check here.
LongStickMiddie.com Upcoming Clinics:
November – Indoor Action Sports – Hampshire Dome, Milford, NH – http://indooractionsports.com/lacrosse/lax-showcases
Boise State, Boise, Idaho – November – Dates TBA
December – Greenfield, MA with Malcolm Chase and Ben Smith – http://indooractionsports.com/lacrosse/lax-showcases
To sign up, head on over to Longstickmiddie.com!
We have seen Malcolm in action at LSM clinics before and can definitely vouch for their effectiveness and excellence. It's a total long pole educational experience… from training to takeaways to handling the ball and scoring goals! Pick up the LSM DVD here.