Just the other day, the Danish National Lacrosse Team sent out the first official emails for the start of our journey to the 2018 World Lacrosse Championships in Manchester, England. Since receiving the email, I have had a couple of days to sit down and think about lacrosse in Denmark and where it is going.
For those of you who haven't heard of Danish Lacrosse before, we are a little band of people in Denmark (yes, that place some people think is a city in Germany or a region in Sweden) who play lacrosse. We are sometimes referred to as the Fighting Pastries and there are around 50 or so of us – men, women, children and one 52 year old fire-fighter called Thorbjørn Jørgensen.
The last time I checked in with LaxAllStars, I wrote about the rebuilding of women's lacrosse in Denmark and their attendance at their first event since 2014.
Quite a bit has happened for Danish Lacrosse in the last 6 months or so. I hope to capture it all for you in the following story. sSo sit tight, grab a coffee and a danish, and catch up with the Fighting Pastries.
Who Runs The World? GIRLS!
Since running a development camp in August 2016 and getting a few more recruits, the women's lacrosse scene has been steadily growing over the last few months. Before camp, Danish Women's Lacrosse was a few random players based in Copenhagen and Århus. 3 hours apart and just treading water. A meeting between Jane Schultz from Århus and Theresa Schneider from Copenhagen changed the course of women's lacrosse in Denmark.
Copenhagen and Århus teamed up together to send a team to the annual Lund 8-a-side in Southern Sweden in late-September. Another team travelled to an indoor tournament in Kiel, Germany in late-January.
There have also been a couple of well attended Danish Indoor Lacrosse League days and things have been looking good.
2017 Copenhagen Development Camp
Keen to get things moving as we come out of the cold Danish winter – the Copenhagen women's team has been the driving force for organising the 2017 Copenhagen Development Camp for early April. It will hopefully be a new spring-board for recruitment and motivation for the Danish summer.
The development camp is available for both men and women. Coaches Giles Cuddy, of Dreadlax fame, coming to coach the women's section and Brian Potter, from England Box Lacrosse, coming to coach the men's section.
The 2016-17 winter has also seen women taking up positions with the club and national committees. New blood on the boards has proved productive with new branding for both Copenhagen Women's Lacrosse and Århus Lacrosse. A positive move which has seen Århus Lacrosse relocating training to a new home, Århus University.
I don't really know what is going down after the development camp, but hopefully things will continue to blossom. There are rumours of restarting the Danish Women's National Team to go to the Coal Cup in Poland this summer, but we will take it all as it comes.
Grow The Game. Recruiting.
It can be quite hard to show off the best parts of our great game when you train outdoors in the Danish winter and it is -5*C and snowing. Århus have continued training through the winter with Sunday daytime fitness and wall ball sessions. Copenhagen has had access to a nicely lit astroturf on Monday and Wednesday nights.
We have gone a bit old fashioned on recruiting in Copenhagen. This winter we tried a pumpkin shootout for Halloween and a bring a friend night in late November. We haven't had any boom with new players coming out. We have managed to keep enough of our regular players attending practices through the winter. The 4 or 5 new people who have shown up over the last couple of months have actually had a good time at training and stayed. 4-5 people might not sound like a lot, but when you only have 50 Fighting Pastries to start with, it's is pretty good!
We found some success this winter with playing small-sided games on small goals. When we had 11+ people we played regular field lacrosse. 9-11 people at training we played 'box lacrosse' outside on a box goal.
With 8 or less people, we played Chumash with a cut down wooden pallet for a goal. It might sound silly but it is a good workout and a lot of fun.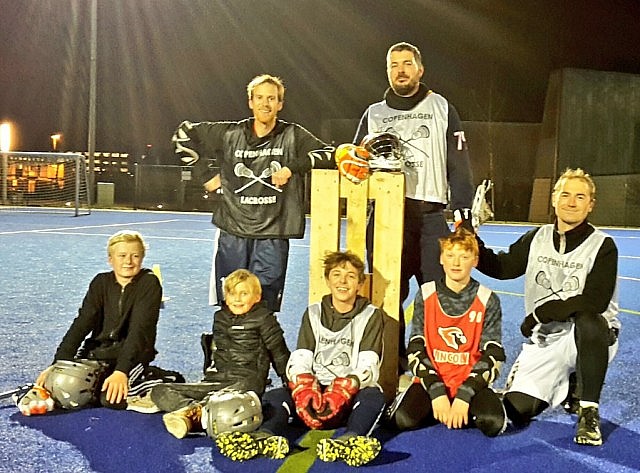 I can't forgot to mention the 6 young guys (14 and under) who have been coming to practice regularly for the whole winter. They are an inspiration. Sometimes they don't seem to be interested in everything and would rather learn how to do a stick trick they saw someone do on Instagram but it is great to have them there.
Århus lacrosse have run a recruiting day since relocating to Århus University and had a great turnout for their 'come and try day'. Hopefully the new players will love the game as much as we do and stick with it.
Summer should be good to us if we put in some effort and put our best foot forward.
Danish Men's National Lacrosse Team
After returning from the European Championships things have been pretty quiet. The national team had the finishing touches put on the final part of the 3 part documentary. Take a look, if you don't mind…
The Danish Lacrosse Federation went through extensive talks and review sessions with Coach Nick Ravenhall and chose to reappoint him as the head coach for our journey to the 2018 World Championships -YES, FRENCHIE AND BRAD WILL ALSO BE THERE AS WELL.
The plays who were interested in staying with the program from the 2016 European Championships to the 2018 Worlds also went through a review process with Coach Nick to make sure the team is moving forward in the proper manner.
2018 is looking like another big adventure for the Fighting Pastries. The try out sign ups are promising and organisation is at an all time high. These events can be expensive.
There was a mass panic when the playing group consisting almost entirely of university students (myself included) saw the projected budget. The out of pocket program total came out a little bit under $4,000 USD per player.
Staying Focused, Staying Organised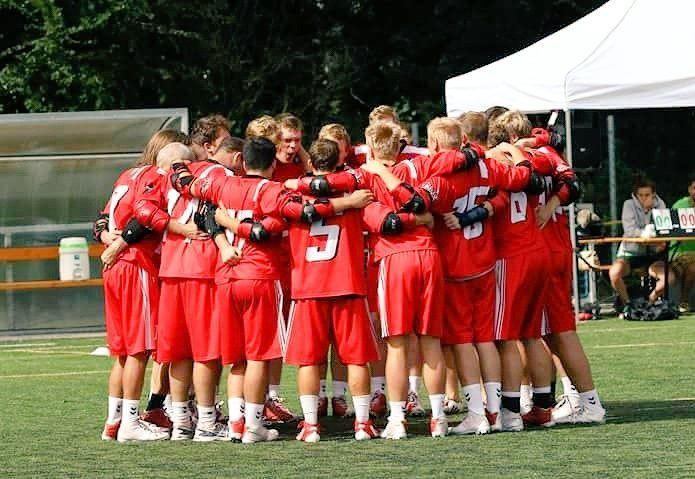 Fortunately we have time to bring that budget in by finding sponsorship, fundraising and being well organised. This time we've got a sponsorship and fundraising co-ordinator, Erin Gustafson, things are definitely on the up. We are looking forward to seeing what happens with not only the Men's National Team, but Danish Lacrosse as a whole over the next 18 months or so.
If you are interested in working with us on any Danish Lacrosse projects, don't hesitate to reach ou. Any support goes a long way! Our playing group needs all the help it can get on and off the field.