Home
Authors
Posts by Connor Wilson
Connor Wilson
Not only do we have Monroe Gear and Video, but we also have an interview with the head coach at Nassau CC, poll news, and how the Top 10 fared last week!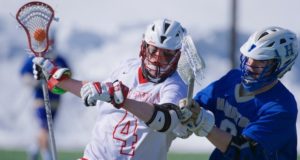 My Dear Lacrosse Companies, college athletes can't be in ads. You can't use their names, or their photos, or even their likeness. None of it.
It's Sully from ComLax! In this newest episode of Connor Versus, I took the LIRR to face off against the String Master General, Mike Sullivan, himself!
We saw a lacrosse mud bowl game last week! There is also major D3 lacrosse upheaval going on right now, and the non-Wesleyan part of me is loving it!
Ohio State Lacrosse is the mayor of Upset City right now after taking down Denver 13-11 in the Horseshoe on Saturday. HUGE win for the buckeyes!
Last week's college lacrosse games resulted in some Ivy League mayhem, and it's making me question where D1 men's lacrosse teams stand for 2015.
I love lacrosse! There is an insane line up of college lacrosse games this weekend, and next week we're sure to see some amazing video come our way.
I don't know about you, but I'm quickly becoming a huge fan of Center Track Customs. What's are center track customs?