Each Friday we're going to run down ALL the great content from all across the world and put it in one place for you reading pleasure!  From across our network, to sites everywhere else… If it's important, we have it!
Fresh New Gear:
CSU Rams go ALL GOLD!  Brown gets the Maverik treatment.  MCLA glove blowout Part 1!  MCLA glove blowout Part 2!  Michigan gets Warrior Regulators.  Warrior is adding… Football?  So much gear at the US Lacrosse Convention!  Gear review – Warrior Riot Gloves.  LAS teams up with Lacrosse Panda.  Revisiting the ugly Calgary NLL jerseys.  NCAA Glove blowout.  Florida Southern gets Warrior Regulators.  Chapman goes Cascade chrome in 2012.  Sandstorm Tourney jerseys.  Rhino's custom Nike Air Force 1s.  GVSU gets geared out.  Wesleyan has the BEST Brine King IIIs ever.  Santa Clara goes STX and Cascade.  More trouble for Under Armour at Maryland?  Warrior drops legal dispute with Reebok.  Are STX Cell IIs just Warrior Riots?  We actually like one color gloves!  Second Breakfast.  more gear from 412.  24SevenLax completes the MOST COMPREHENSIVE MESH REVIEW EVER.  Whittier has new UA uniforms.
And finally, a BLIND ITEM about a manufacturer leaving their top sponsored player at home!
Wow.  Under Armour cleats for Maryland.  SO LOUD!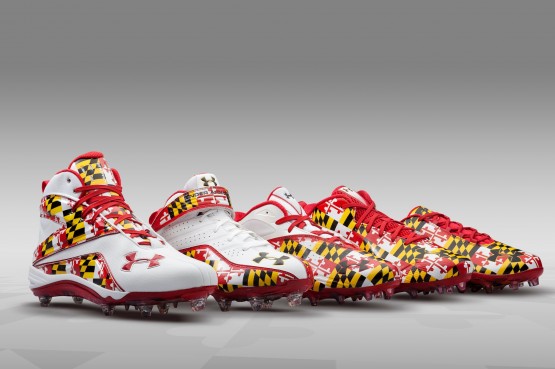 Box Lacrosse News And SO MUCH MORE:
Kentucky Stickhorses Black vs White Scrimmage video.  Week 3 Preview of NLL games by our Canadian friends.  Now with game picks!  Iowa box lacrosse league week 8 predictions.  Fighting, helmets and more from the NLL.  NYC Box photos and recap.  NYC box video highlights.  Can you believe no one was suspended from last week's NLL brawl?
Killer Interviews:
Fireside Chat with Kevin Crowley, who has played EVERYWHERE!  Ryan Powell interviews Chris Schiller in "Lettin' It Rip".  A Fireside Chat with Chris Meade of LacrosseRecruits.com proves VERY interesting and informative.  Interview with Pro Wrestler and SpikeTV personality, TAZ!
Grow The Game:
We announced the FIRST EVER Grow The Game Award!  Payu and the Thailand Lacrosse Association head to Japan on a Grow The Game mission!  How the ArtOfLax got into the lacrosse industry!  The Red Hot Buffs get interviewed about how they GTG and what impact Club Ball has on the growth of the sport.  Awesome read and video!  Laxers In Paris!  FIL adds China and Peru.
Finally, will SMU add lacrosse when they join the Big East?
Other Great Lax Stories:
Another super awesome Caption Contest!  Who has some Old School?  Brown University wows us with this wacky old string job and photo!  The Salt Shakerz are heading to Miami!!!!!  Indiana Hoosiers start up practice.  We talking about Practice, man!  Still on practice, the Tennessee Vols video proves they've started too!  The Tenacious Turtles are the best 7th grade lacrosse players on the planet.  Photos from the Adrenaline Challenge.  Three big hits.  Two should have been penalties.  Shreveport, LA honors the members of Seal Team Six with a lacrosse Jamboree.  A GREAT Photo of the Week!  How Lacrosse Changed My Life by Cody Hart.  Woody makes a lot of promises on 24SevenLax.  Can he keep them?  TLN updates us on UCSB's 2012 season.  Lacrosse players admit to using drugs more than other athletes via Bloomberg.  Chris Garrity retires.  Lax.com covers the MLL draft with a video.
And last but not least, we have a post on how the new Crooked Arrows movie IS the Mighty Ducks for lacrosse.  TOTALLY TRUE.  And awesome!